The Oclea Universal Evaluation Kit
Discover how the Oclea Universal Evaluation Kit can give you a head start in developing your products.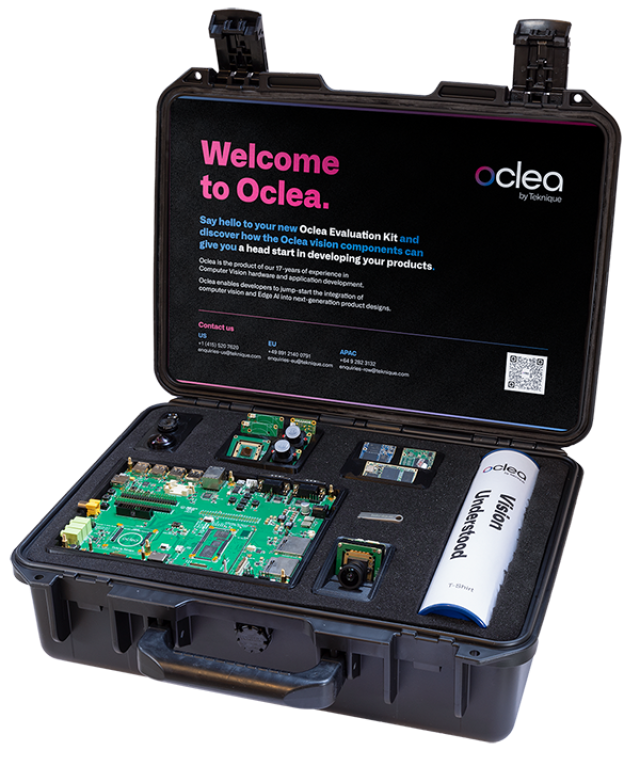 The Oclea™ Universal Evaluation Kit (EVK) makes evaluating and developing smart camera products using Oclea™ System on Modules (SoMs) simple. Includes an A5 breakout board, SoMs, the ZEUS camera, image sensors and a FRAMOS Pixelmate adapter.
Everything you need to jumpstart your vision system product development including:
Software Development Kit (SDK)
The Oclea SDK is a Yocto Linux-based development framework for rapid development of smart camera and vision-based applications. With easy-to-use demonstration applications that include full-source code for a variety of common use cases. Advanced image processing, depth-perception, de-warping, video encoding and streaming, and video analytics, computer vision and AI algorithm processing examples to allow your team to start immediate development.
Support and Additional Services
Our online support portal allows fast and easy searching through application notes, datasheets, and API descriptions, and dedicated engineering support is only an email away with our online Support Desk. We also offer a free design review service for all our customers developing their own electronics using our SoM components. Advanced engineering services options including ISP and Image Tuning, AI network porting, or product design services can be requested via the portal, and our Sales and FAE team will contact you to discuss your requirements directly.
Secure your Oclea Universal Evaluation Kit
What's in the box
All the components in one place to accelerate your vision system evaluation and rapid prototyping requirements.
SoMs & Board
Oclea A5 Breakout Board
Oclea CV22 µSoM
Oclea CV25 µSoM
Oclea S5L µSoM
Image Components
Oclea IMX327 Image Sensor
Oclea IMX415 Image Sensor
Oclea-FRAMOS Pixelmate Adapter
Framos IMX412 Image Sensor
Oclea ZEUS Camera
Selection of Wide and Narrow Angle Lenses
Accessories & Software
All cables required to power and program
Quickstart Guide
Oclea SDK (Download)
Oclea Support Portal Assistance
Schematics and Reference Designs
What else is needed?
For download and use of the Oclea™ SDK, a signed & executed Software Licence Agreement (SLA) is required. A request for signing will be sent to the email used to purchase the EVK, and an account on the Oclea™ support portal will be generated for further communication.
HIGH SPEED PROTOCOL INTERFACES
10/100/1000MB Ethernet Connector
USB 2.0 Host with 4 Port Hub
Micro and Regular SD Card Connectors
POWER & TEST
12VDC Power Input
Battery Connector CR2032 for RTC Backup
Onboard 5V and 3V3 Power Rails for Hardware Development and Debugging
5A Range High Side Current Probe on SoM
5V Power Supply for System Power Measurement
VIDEO INPUT INTERFACE
Oclea™ Hydra Image Sensor Connector
VIDEO OUTPUT INTERFACE
Full Size HDMI Output
RCA Composite CVBS Output
VOUT Header
MIPI/DSI Out Header
AUDIO INTERFACE
Stereo 48KHz Audio Codec with Line IN/OUT, Headphone, MIC, Mono Speaker Connection
DEBUG & LOWER SPEED INTERFACES
USB Slave Serial Debug Port
JTAG Header
IO Expander 12C 16 port TCA9539PWR and IO Debug Headers
Two (2) RS232 UART ports
One (1) RS485 port
PIR Sensor Input Connector
Infrared IR Receiver TSOP34838
LED Driver AL8860 1A with Dimming